Abel Edmund Leaman and Margaret Webber
Abel E. Leaman was born in New York state on October 12th, 1832. He was one of 15 children born to David Leaman and Catherine Haskins. He moved to Minnesota with his family in about 1874 and started the Leaman Boatworks in White Bear Lake. He died in White Bear Lake, MN on January 6th, 1908.
Margeret Webber was born in Canada on December 22nd, 1843. She was the daughter of Henry Webber. She died in White Bear Lake, MN on May 31st, 1928.
Abel and Margaret were married on February 9th, 1863 in Clayton, Jefferson County, NY and had three children, Jessie and Dean and a third child that died when very young.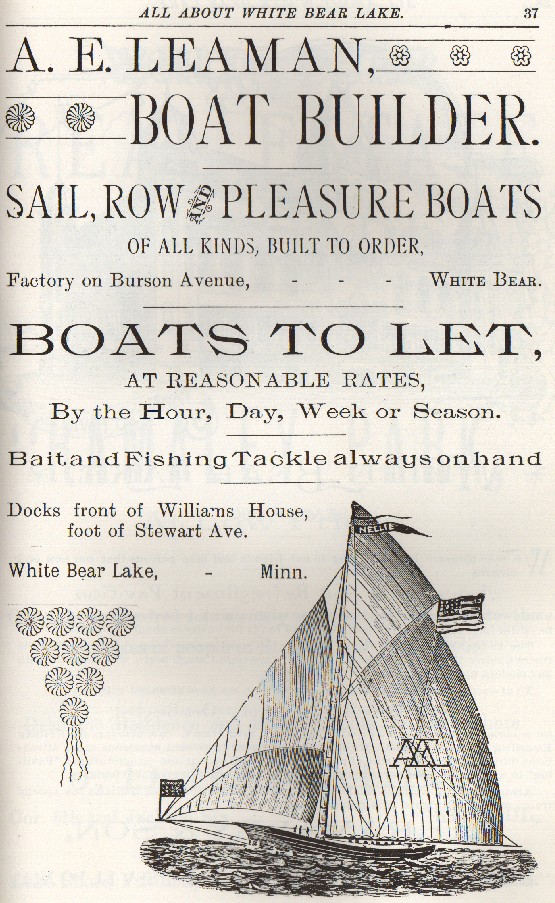 From "All About White Bear Lake" Published in 1890

---
Abel seems to have been very active in White Bear Lake. He was one of the first councilmen when the town incorporated in 1881 and he was a member of The Citizen's Union which was formed for "better protecting, maintaining and improving affairs in the village." He was a member of Garnet Lodge #166, a fraternal organization, and his sailboat, the Nellie was well known around the lake.

---
.Obituary from the White Bear Life, January 10th, 1908:

Death of Mr. Leaman
---
A. E. Leaman, an old settler of White Bear, died Monday, Jan. 6, 1908, at 3 o'clock P.M., aged 75. Mr. Leaman had been failing for some time. He was the last survivor of a family of twelve brothers and three sisters. The funeral was held from the family residence on Wednesday, Rev. J.C. Robinson officiating. Hymns were sung by Mrs. J.C. Robinson and Mrs. T.W. Bacon. The remains were escorted by Garnet Lodge , No. 166, A. F. and A. M., to Union Cemetery, where the Masonic burial services were conducted by the Lodge, of which Mr. Leaman had been a member for many years. Bro. J.M. King was Marshal and Bros. F.J. Reif, L.H. Schnabel, J.E. Extrand, C.P. Long, Wm. Long, and R.C. Collison were pallbearers. A.E. Leaman was born Oct. 12, 1832, at Sackett's Harbor, N.Y. He was married to Margaret Webber Feb 9, 1863, at Clayton, N.Y. They came to White Bear 33 years ago, where they have resided ever since. He is survived by Mrs. Leaman, his daughter Mrs. Haussner and son Dean.

---

This page last modified on 8/3/1999.